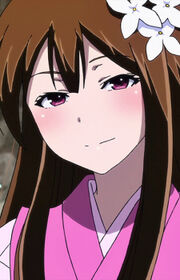 Yana is a ritual dancer in I'm Standing on a Million Lives.
Appearance
[
]
Yana has long brown hair and purple eyes. She wears a light-colored kimono and black stockings and sandals.
Personality
[
]
Aoiu and Yana treat visitors to their island who are hired or want to help them with respect. Those that are not, are treated apathetically.